Anne Welsh, a sickle cell advocate & activist spoke on her upcoming book, her struggles, and triumphs as sickle cell survivor and the ways the Nigerian government can help people living with the sickle cell disease live a better quality of lives.
While sharing her life-story during the press session tagged "Sickle Cell Matter", Anne Welsh pointed out that the government can do a lot to make life easier for people living with the Sickle Cell disease. She noted that the government is already doing a  lot with creating awareness however, there is still also that needs to be done. According to Anne Welsh- "People with Sickle Cell can achieve but will only achieve with the right infrastructure.
One of the things that needs to be done is for  funding to be set aside for research on Sickle Cell Disease.Research.Indeed, Africans and Nigeria as a whole would need to be willing to take centre stage in finding a cure to the sickle cell disease.Most research organisations outside the continent do not count Sickle Cell Anemia as a major cause hence it is grossly underfunded. According to Stat News"Fewer than a dozen US labs are working all-out on sickle cell disease, a number that has stayed constant for years".In a country where a roaring 2-3% of our  over 190 million Nigerians live with this- making us the most affected sub-sahran coutnry, it is a no-brainer that we take the bulls by the horns. Anne Welsh suggested that structures need to be put in place for research, management and structuring of demand and supply of drugs for SCD and much more.
There also needs to be better screening programmes . Anne Welsh shared how she was not diagnosed with SCD till she was about 4 years old. By that time, she had gone through a number of crisis where her mother had been been to different Doctors, who did not know she had SCD. Each time they  simply turned her away with paracetamol and a "she will be fine".At some point her parents were asked to take her to a psychologist.It was when she was taken to a psychologist that she was diagnosed after a series of blood screenings before the actual Doctor's session. With children living with SCD, there tends to be a lot of misdiagnosis. Screening and early detection is important to know when kids have sickle cell anaemia so they get the help they need early enough.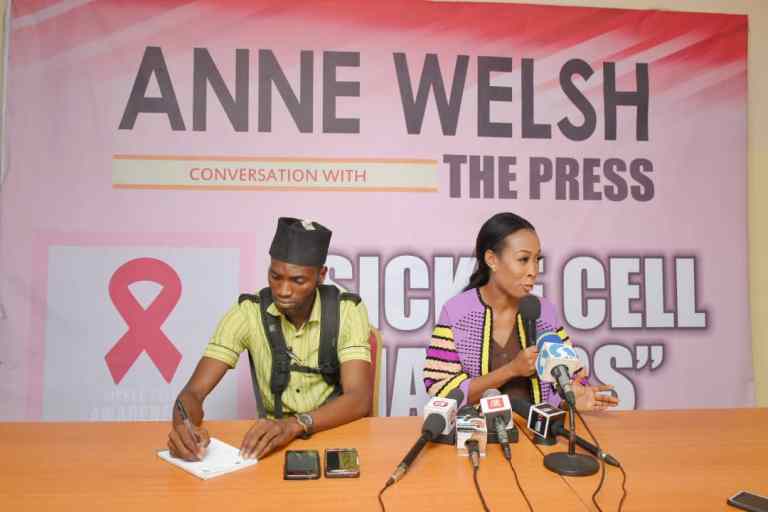 Another suggestion proffered by Anne Welsh is the need for more support for people living with SCD. The government needs to expend more into providing the needed emotional and mental support that people living with Sickle Cell Anaemia so direly need. The pain and its symptoms affect them, psychologically, mentally which in turn affects their quality of life.